Workshops
Bring your beautiful and mysterious abstract art to life



Click to Inspired Abstract | Circle | Mentoring | Spirit Painting | Videos



Hi, I'm Julie Bernstein Engelmann. If you're an artist or art lover who wants to explore abstract painting, my joy is to help you bring your beautiful and mysterious abstract art to life. Especially, I help you find ease in completing your mid-process "beautiful mess" in a natural and meaningful way.


Are you captivated by abstract paintings that seem to come to life?
Are you especially drawn to abstract paintings that are unpredictable?
Do you want your abstract paintings to have a deeper sense of space, like a spiritual place?
Does feeling your way around abstract painting seem too vague, and thinking your way through it too limited? Do you want more of a compass?

If any of these questions ring true with you, welcome! They are my concerns too, and they underlie the way I explore and teach abstract painting.


I invite you to work with me through:




3-day In-Person Workshop or 4-day Live Online Workshop


The Inspired Abstract
Birth your beautiful and mysterious artwork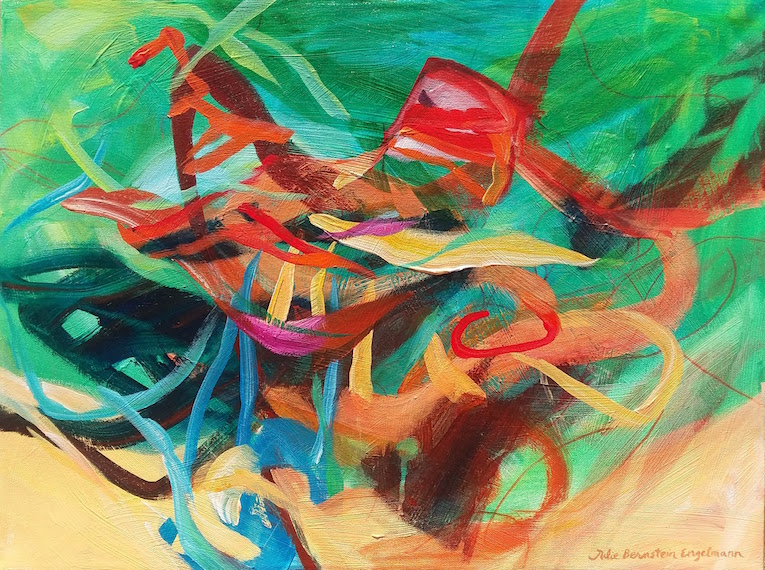 3-day in-person workshop with Julie Bernstein Engelmann
March 9-11, 2022 (Wed-Fri)
Held at the Sedona Arts Center, Sedona, Arizona

4-day live online workshop with Julie Bernstein Engelmann
September 20-23, 2022 (Tue-Fri)
Held over Zoom - Registration coming

This workshop gives you a powerful foundation for abstract painting. You'll be guided to enter the painting process naturally, use layers to develop a deep and luscious visual space, and weave into it brush-marks that grow from a personally meaningful inspiration. You'll learn to see the spirit in your painting and help it shine powerfully.

A focus of the workshop is to find ease in bringing your mid-process "beautiful mess" to fulfilled completion. You'll create two acrylic paintings that embody meaning, naturalness, and spatial depth & flow – qualities that lift an abstract painting from amateur to professional.

You will also:
Understand the distinct roles of background, middle ground, and foreground in abstraction, and use each to advantage.
Learn ways to dramatically deepen your painting's visual space.
Discover how small changes to the flow of your painting can stunningly bring it into focus.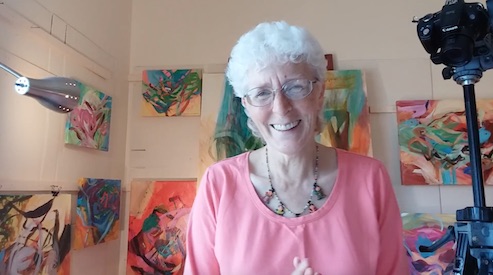 Whether you're a longtime artist or new to painting, you'll gain discernment and an abundance of secrets to turn inspiration into soul-satisfying abstract paintings.

Acrylic | All levels

See Julie's videos HERE.

Inspired Abstract 3-day In-person Workshop
Register through the Sedona Arts Center
March 9-11, 2022
Wed 10-5, Thu-Fri 9-4 AZ time (with lunch break)
Location: Sedona Arts Center, 15 Art Barn Road, Sedona, Arizona
Tuition: $420.

Inspired Abstract 4-day Online Workshop
Registration coming
September 20-23, 2022 (Tue-Fri)
Time: 10:00 am-3:30 pm AZ/PST (with lunch break)
Location: Online using Zoom

About the online workshop: Julie will teach live via Zoom using demonstration, discussion, and plenty of individual attention. You'll post photos of your work-in-progress for enlightening feedback. The relatively short daily in-class hours allow flexible painting time outside of class for those who wish. Workshop slides and handouts are downloadable through an online class forum. Julie will monitor the forum before, during, and two weeks after the workshop to answer questions and provide follow-up comments.

Questions? Email Julie.


MATERIALS LIST:

PAPER or CANVAS
2 smooth surfaces 18" x 24". If canvas, please add an extra layer of gesso ahead of time (generously applied, using curvy random motions rather than straight ones). If paper, I recommend smooth, good-quality drawing paper or hot-pressed (smooth) watercolor paper (not gessoed) (my favorite). Alternatively, if your paper is thin, recycled, or cold-pressed (textured), please paint a layer or two of gesso on it ahead of time (using curvy motions).
ACRYLIC PAINTS
Suggested colors (at minimum): White, Cadmium yellow medium (or better, instead get both Cadmium yellow light and Cadmium yellow deep), Cadmium red light, Quinacridone magenta, Phthalocyanine blue, Red oxide. Also helpful: Cerulean blue, purple (e.g. Prism violet), green (e.g. Hookers), and whatever you have on hand. Liquitex Basics brand is fine for most colors, but for the Cadmiums I recommend a better brand like Utrecht. Regular acrylic is better for our purposes than heavy body or fluid.
BRUSHES
Soft, synthetic. Suggested sizes: 1" wide filbert (rounded); 5/8" wide bright (flat). Helpful: a 1½ to 2" brush (can be cheap). And whatever you have on hand.
LIQUITEX PROFESSIONAL GLOSS MEDIUM (e.g. here)
...or similar. Slightly dilute to approx. 20 parts medium to 1 part water.
LOW PLASTIC CONTAINER
...for keeping paint moist (see photo).
PALETTE OR FLAT SURFACE FOR MIXING
...e.g. pie tin
PAPER TOWELS
Soft, absorbent like VIVA
OPTIONAL
Palette knife for scraping palette. Apron.


ADDITIONAL MATERIALS for ONLINE WORKSHOP:
Computer or other device for ZOOM meeting.
Camera (on phone is good) for taking pictures of painting.
MARKERS: 2 colors Sharpie markers and/or Conte crayons (if using paper: pencil or ballpoint pen is okay).
Water container (for rinsing brushes).
Spray bottle (to keep paint moist).
Table and tablecloth.
OPTIONAL: Easel or table easel.

See Julie's "Supplies and Setup" tips (with photos of supplies) on the online class forum. You'll receive a link several days before the workshop.

Questions? Email Julie.


INSTRUCTOR: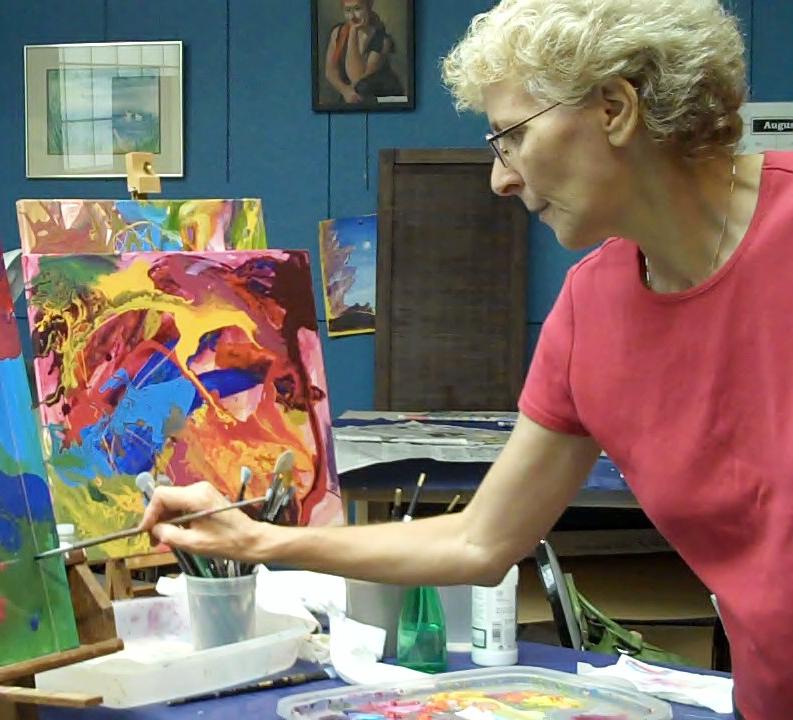 Julie Bernstein Engelmann creates abstract art that speaks to the heart and spirit. Her luscious acrylic paintings have won many awards and were featured in a retrospective solo exhibition, Being Spirit, at the Southern Alleghenies Museum of Art in Pennsylvania. Educated on both coasts, Julie holds an MFA from the University of California, Los Angeles, and a BA from Barnard College (summa cum laude) in New York City, where she studied with Milton Resnick, first-generation Abstract Expressionist.

Julie has been teaching abstract painting since 2003, currently on the faculty of the Sedona Arts Center School of the Arts. She is passionate about teaching artists how to understand their mid-process "beautiful mess" and bring it to life through three vital qualities of powerful abstract painting: meaning, naturalness, and spatial depth & flow. In addition, Julie shares valuable expertise in color mixing to enhance visual depth. See Julie's art, CV, and sign up for her Beauty & Spirit Note at www.julieengelmann.com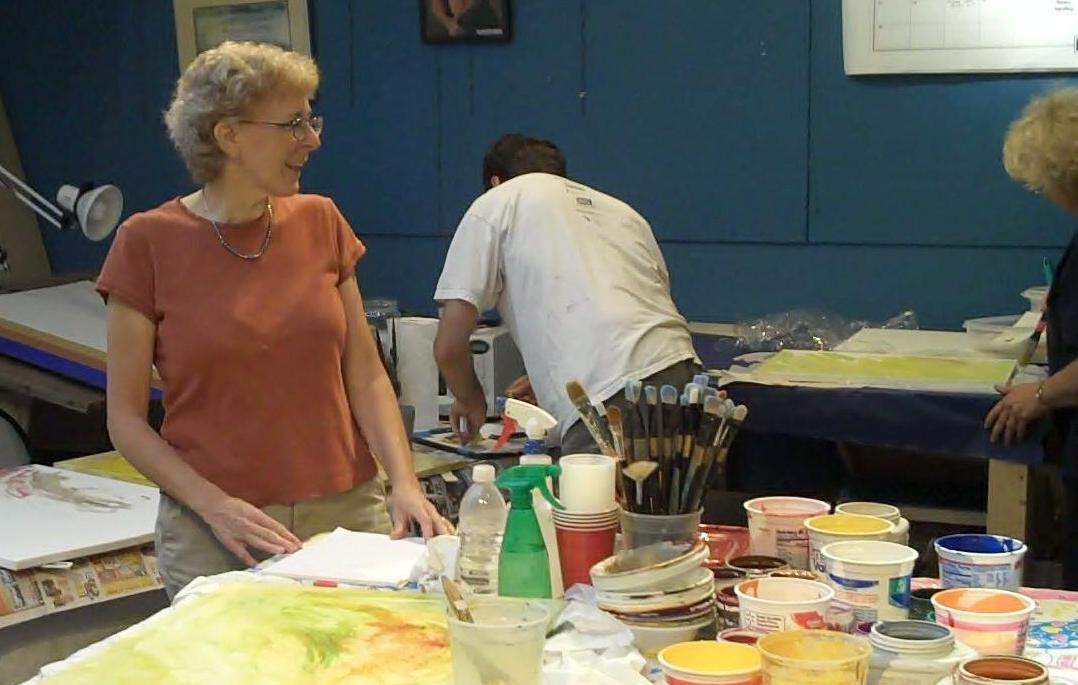 "I absolutely loved Julie's workshop. I learned so much that I will revisit time and again on all of my future paintings. I'm thankful for all of the resources she provided and the sharing of her rich experience. Julie is a gifted teacher in bringing out the kid, heart and spirit of a person and a group. She sees, simultaneously, the beauty and the areas for improvement in a huge range of works, styles and experience levels. The critiques of my work and of my fellow students were incredibly helpful. I can't put into words how magical this experience was for me and it seems for the others as well. And I love the paintings I created in her workshop. I look forward to my next workshop and/or mentoring with Julie, and feel like it's my great good fortune to have had this special experience! Thank you!"

"Julie is fun, sweet, kind, enthusiastic, and a great teacher! She has the ability to help us see our artwork with fresh eyes looking for the good instead of focussing on the bad. It was a wonderful experience and I will take another class with her one of these days!"

"Very encouraging style; even her critiques were uplifting rather than downcasting."

"Julie is an excellent instructor. Her feedback was honest and sought after by everyone in the class. Her style of teaching resonated with me and I was able to walk out of the class with all of my goals met. Her passion for what she is doing is absolutely inspirational!"

"I love Julie: Her art, her teaching style, and as a human being. She always makes a workshop a delightful experience."

"I had been hoping to get some insight into painting abstractions, and possibly learn to 'free up' my style. Julie provided both, and so much more. Not only did she provide ways to 'tap into' and express our own individual uniqueness, she also shared the keys to making good abstractions, including color theory and mixing, composition, layering techniques, and other fundamentals of art. I learned so much! Her teaching style and personality gave us students the confidence to move forward, and her critiques were brilliant as she shared her experience about just what we needed to bring our paintings 'over the top.' I would take other classes from her and I recommend her highly."

"Julie was fantastic! I so appreciated her patience and kindness."

"Your art class was such a blast! It exceeded my expectations in every way!"
Plan a workshop for your friends or artist group
Plan Your Own
Inspired Abstract Workshop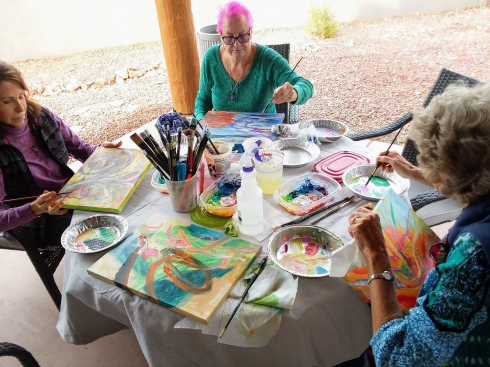 You don't have to wait. Schedule your own workshop with me! Recruit your art group or a couple of your artist (or non-artist) friends to join you for a 1-, 2-, or 3-day creative experience.

The workshop can be held online (over Zoom and my private online forum) - or come to gorgeous Sedona, Arizona - or invite me to teach your artist group at your location.

For three or more painters, the price will be the same as my regular workshops. Email me your interest.

See also my half-day Dream Spirit Painting experience.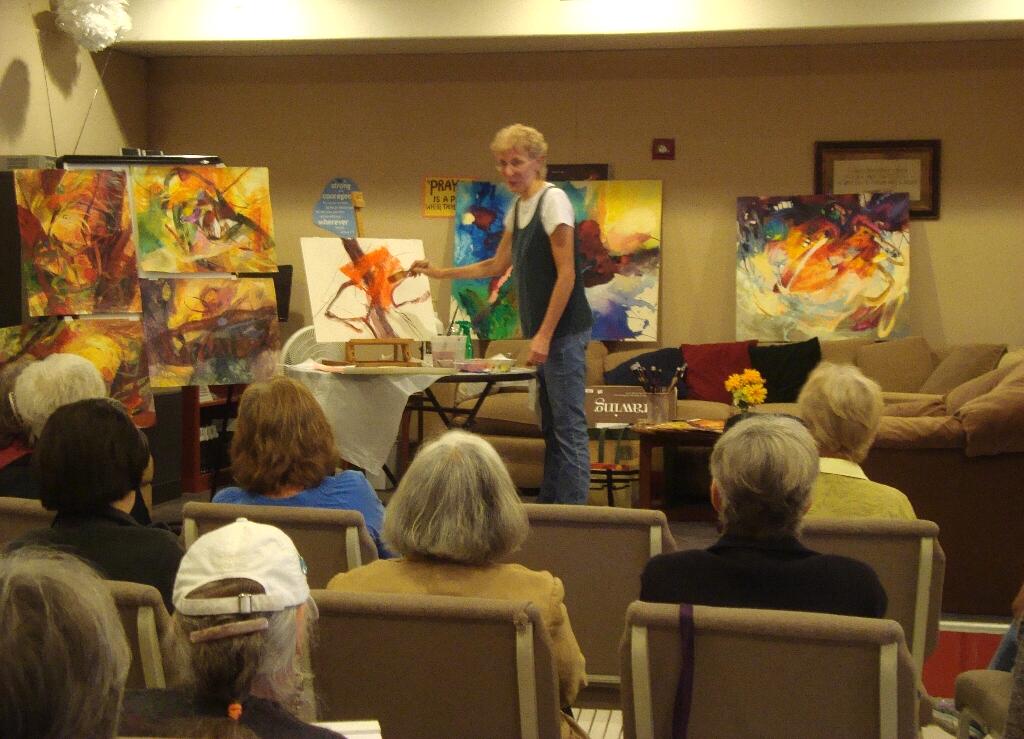 "Julie - what can I say! you were great! you did everything one could expect from a work shop: good demo showing your step by step technique, wonderful personal contact & critiques, sharing completed works & the feelings one can get from the paint colors & shapes - AND THE WONDERFUL HANDOUT - I enjoyed it immensely as I am sure everyone did - Thank you so much - sincerely,"


- Patti Giordano, artist and Programs & Classes Coordinator, East Suburban Artists League, Murrysville, PA
"Thank you for such a fun workshop! As you already know, I really enjoyed myself. Your ability in critiquing is outstanding. You are gifted in tuning into the artist and the painting. It is very impressive."


- Marva Harvey, artist and Program Coordinator, Contemporary Artists of Southern Arizona, Tucson, AZ
"I told you how beneficial the demo was. I neglected to say how much I enjoyed the lecture portion of your presentation and found the comparisons between a wow painting and a not so wow one particularly valuable. I could instantly see the difference in the paintings."


- Carolyn Starbuck, Contemporary Artists of Southern Arizona, Tucson, AZ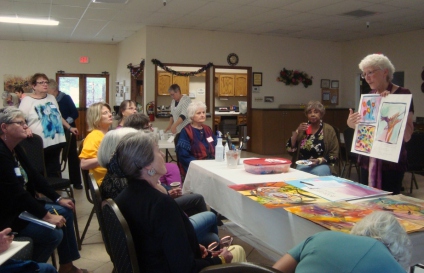 "As an abstract experimental artist stubbornly committed to authenticity, I found Julie Bernstein Engelmann's workshop to be one of the best I have attended. I attend workshops to expand my artistic perspective, not to copy techniques. I want to explore my own potential to express that which is unique to me. Julie's methods help me do that.

"Julie is like a good shaman, guiding you to your own truth. She has developed a style of teaching that frees the student to be more. The word 'education' comes from the Latin 'educare' which means 'to lead out.' In that classical sense, Julie is an educator. Her methods activate the creative center of the brain. I am not fast, but thoughtful, and the pace of Julie's teaching gave me time to relate, absorb and apply what I was learning."


- Louisa Aragona-King, El Valle Artists Association, Cottonwood, AZ
Back to top
Home
Gallery
-
Earlier Gallery
-
Back Room
About Julie
-
Videos
-
CV
-
My Art Story
-
Contact
Workshops
-
Beauty & Spirit Abstract Artist Circle
-
Artist Mentoring
-
Spirit Painting
Free E-book
&copy 2012-2021 Julie Bernstein Engelmann
Photo Credits:
Photo of Julie teaching with apron by Beth Bernstein &copy 2019
Video still of Julie teaching online workshop &copy 2020
Photo of plastic container paint palettes by Julie Bernstein Engelmann &copy 2019
Video still of Julie painting at Indiana Art Association workshop, Indiana, PA, by Julie Bernstein Engelmann &copy 2014
Video still of Julie's Indiana Art Association workshop, Indiana, PA, by Scott Dimond &copy 2013
Photo of Julie in front of her painting Faerie Queen at Southern Alleghenies Museum of Art solo show by Minda Bernstein &copy 2013
Photo of Create a Dream Spirit Painting, Village of Oak Creek, Sedona by Julie Bernstein Engelmann &copy 2019
Photo of Julie's demo at El Valle Artists Association, Cottonwood, AZ, by Elaine Bomkamp &copy 2015
Photo of Julie's demo at El Valle Artists Association, Cottonwood, AZ, by Nadine Cummins &copy 2019
Paintings by Julie Bernstein Engelmann